Welcome to Orchid Dinex, your one-stop destination for premium Lava Casseroles and a wide range of other high-quality products tailored to the HORECA industry. With an extensive selection of offerings, we cater to the diverse needs of hotels, restaurants, and catering services.
Orchid Dinex, one of the major Lava Casserole importers, is the epitome of excellence in the hotel ware and catering industry. We are also the major lava casserole distributor throughout India. Crafted with utmost precision and utilizing the most advanced casting and enameling technology, these casseroles are manufactured in Lava's state-of-the-art facilities in Turkey. With over 40 years of experience and expertise, Lava ensures that each cast iron cookware pot and pan meets the highest quality standards.
At Orchid, we take pride in curating a comprehensive range of products for the HORECA industry. From dinnerware to glassware, and cutlery to buffet essentials, our collection is designed to elevate your dining experience. In addition to our diverse offerings, we also specialize in importing and selling Lava Casseroles – the perfect addition to any professional kitchen.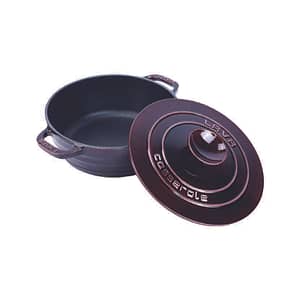 Lava metal casseroles are not just visually appealing but also boast exceptional functionality. Thanks to their excellent heat retention and distribution properties, these casseroles keep your culinary creations warm and flavourful for extended periods. Whether you're serving hearty stews or delectable baked dishes, Lava casseroles ensure that your food remains at the ideal temperature.
The superior craftsmanship of our premium Lava casseroles shines through their premium enamel cast iron construction. Manufactured using the highest-quality cast iron in the world, these casseroles do not contain any harmful additives. Unlike Far East-made cast pots and pans that often compromise on quality, Lava Casseroles provide unmatched durability and longevity.
Available in a variety of sizes, such as 4 liters, 5 liters, and 7 liters, Lava Casseroles cater to the unique requirements of your culinary creations. Whether you're hosting an intimate gathering or a grand event, Orchid Dinex offers the perfect size to suit your needs. Additionally, our casseroles come in a range of designs, styles, and colors, ensuring a perfect match for your aesthetic preferences.

We understand that the HORECA industry demands reliable and durable hotel ware. Orchid Dinex is dedicated to providing products that meet and exceed these expectations. The Lava Casseroles we import, and sell are meticulously tested in advanced Lava laboratories to ensure they comply with applicable international standards. With their resilient enamel coating, these casseroles not only enhance the visual appeal of your dishes but also make cleaning and maintenance a breeze.
At Orchid Dinex, we strive to deliver exceptional customer service alongside our premium products. Our team is committed to assisting you in finding the ideal Lava Casseroles and other HORECA essentials to elevate your culinary endeavours. With competitive prices and prompt delivery, we aim to exceed your expectations and build long-lasting partnerships.
In conclusion, Orchid Dinex offers a diverse range of products tailored to the HORECA industry, and we take pride in being the destination for premium Lava Casseroles. With their superior quality, excellent heat retention, and striking aesthetics, Lava Casseroles are the perfect addition to any professional kitchen. Explore our collection today and experience the excellence of Lava Casseroles, available through Orchid Dinex.